The Golden Compass is one of the most poorly executed book-to-movie adaptations I've ever seen. To bring it to the big screen major changes were made to the characters and situations in this story, unfortunately none of these changes were improvements.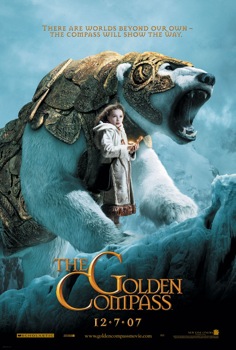 The Golden Compass has a completely different ending than the book it is based on and omits enormous amounts of the story. The order of circumstances is changed and the screenplay writing is simplistic and awful.

The book is a wonderfully told story which reveals the mysteries of this fantasy world slowly whereas the movie does not allow the audience to figure anything out but rather has characters explain things as if to assume the audience is too dumb to follow along. The movie even has the audacity to open up with narration which explains major parts of the plot which are not revealed until the end of the book.



At this point you may be asking why I am giving a rating of $3 to a movie I have nothing but negative things to say about. The answer is simply that as a movie, judged apart from the far superior book it is based on, it's not terrible. Leaving aside the truly horrible screenplay, The Golden Compass contains brilliant visuals, pretty good acting and almost perfect casting, including the incomparable Sam Elliott.

This is definitely on my 'Don't Watch It' list though and I give The Golden Compass a value of $3. If you've read the book don't bother with this movie, but if you like fantasy movies and don't mind bad writing you may want to give it a shot.